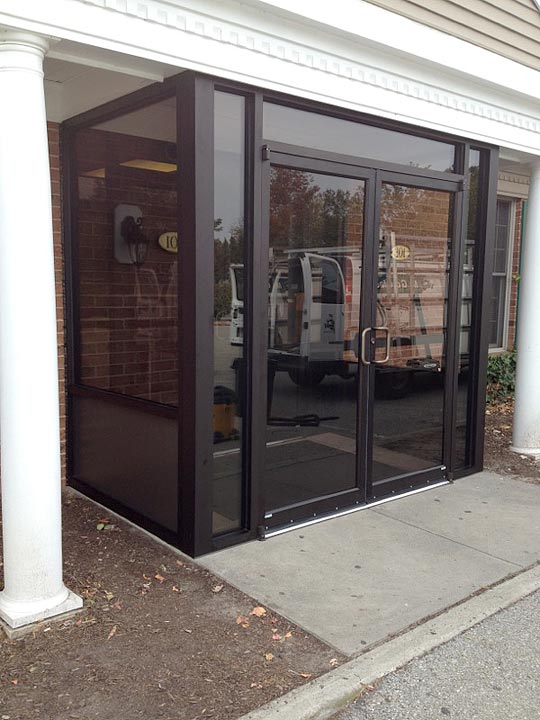 STORE FRONT DOOR AND WINDOW
Store Front – commercial door and window frame formation – commonly used for exterior view of  business centers, office buildings, shops, ground floor of multiple story buildings, and etc.
The formation consists of two main categories: Framing and Glass/Glazing.
FRAMING:
Multiple fabricated aluminum forms are used for different styles, shapes, and color, but in terms of temperature insulation, we generally have two types:
1 – Typical frames made of uniformed aluminum that are more commonly used; the frames are uniformly made of aluminum.
2 – Thermal frames made of aluminum including a strap of specific hard rubber between the exterior and the interior sections of the frame having better thermal control in the metal section.
Thermal frames are typically used to prevent thermal transfer from outside to inside.
For the glass position in frame structure, there are two standards:
A – Center Glazing – glass is placed in the middle and center of the aluminum frame. In other words, it has the same distance from both outer and inner edges of the frame.
B – Front/Flush Glazing – glass is placed almost flushing the front (exterior) or the inner (interior) of the edges of the aluminum frame. In other words, the glass is placed with just a little gap from the surface of either the exterior or the interior of the frame formation.
Glass and Glaze:
There are many different types of glass and color that are available in the market, and they can go with any design based on preference. Never the less, based on glass thickness, there are two choices:
1 – Single Pane Glass with typically 1/4″ thickness that is commonly installed in 1 3/4″ Height and 4″ or  4 1/2″ Width frames.
2 – Double Pane Glass with typically 1″ Overall thickness that can be installed in 2″ Height and 4″1/2  Width frames.
Single Pane Formations are commonly designed and ordered for interior purposes where temperature control is of lesser importance, and Double Pane Formations with typically 1" Double Pane Glass are commonly used for exterior of buildings where thermal control and noise transfer are significant.
SUGGESTION:
To reduce cost, the window openings are recommended to be preferably divided and made into two or more Horizontal rows keeping the lower row 18″ or higher. This will comply with the City Codes and Regulations having it to have tempered glass. The rest of the glasses can be Annealed and therefore less expensive.
Another way to reduce cost is to comply with more standard width in Vertically dividing the window openings typically between 30″ to 72″. This will provide ease of glass installation and replacement thus reducing the labor involved in glass installation and future replacements.